My dance journey began when my Guru Smt. Asha Tai Joglekar, accepted the then ten-year-old me as a student of Kathak. I have also trained under the maestro, Padma Vibhushan Pandit Birju Maharaj and have received coaching in rhythm and rhythmic cycles from the tabla maestro Taalyogi Pandit Suresh Talwalkar.
​​
In 2003, earned Alankar (Master's) under Guru Asha Tai. Performed Taal Teentaal - Rhythmic cycle of 16 beats. My expertise is in Tatkaar, performed Ladi (an interwoven intricate footwork) to conclude my technique presentation. Presented Thumri depicting two characters of women - one who loves rain and dances happily while other is pining for her love, as the finale. It portrayed intense emotions of two women in love, with contrasting feelings.

In 2000, earned Visharad Purna (Bachelor's) under Guru Asha Tai. Performed Taal Dhamaar - Rhythmic cycle of 14 beats. Tatkaar being my forte, performed Dhamaar tatkaar, while concluding my technique presentation. Presented Thumri taught by Pt. Birju Maharajji as the finale. It had subtle nuances, style and expressions of Radha for Krishna's pranks.

To complement the dance education, earned Bachelors in Indian Philosophy from Mumbai University.
Seasoned guru, teaching Kathak for more than 20 years to students of all ages and skill levels!
​
2023: Founder-President, The Mahadeo Degwekar Foundation, a non-profit 501(c)3. Started in the memory of my grandfather, foundation's aim is to serve, preserve and promote the classical arts and its artists.

2020 - present: Founder and Artistic Director, Pallavi Kathak (aka Nrityavali Gurukul). The Gurukul follows a structured curriculum to teach students of all ages from beginner to advanced level. Students can earn Diploma (Visharad Purna) and Advance Diploma (Alankar) in Kathak from Bharati Vidyapeeth Deemed University School of Performing Arts (BVDUSPA). I am a certified New Jersey center in charge and examiner of BVDUSPA since 2015. As a guru, I structure the course curriculum, teach classes, design costumes, and direct choreography, for exams and stage performances.

2015 - 2020: Worked as a Director at Nrityanjali Arts, premiere Kathak dance school in NJ. Became a certified New Jersey center in charge and examiner of Bharati Vidyapeeth Deemed University School of Performing Arts. I taught a structured curriculum to students of all ages and skill levels, and managed administration.

2009 - 2014: Prior to Nrityanjali Arts, I worked as a Vice Principal at Archana Arts, USA for about 5 years. As a Vice Principal, along with my duties as a dance teacher I assisted in administrative work and in choreography.

1999 - 2009: Started my career as a dance teacher and then advanced to Vice Principal at Archana Nrityalaya, India. Taught and managed all the beginners to advance Kathak dance classes. I was also an assistant choreographer to Guru Asha Tai and was a certified Akhil Bharatiya Gandharva Mahavidyalaya's examiner for 5 years.
An established Kathak Artist with over 25 years of rich experience in performing and choreographing!
​​
Some of my achievements include performance at: the prestigious Carnegie Hall, NYC; Lincoln Center, NYC; New York Kathak Festival, NYC; Navatman, NYC; Sadhana festival organized by Pt. Birju Maharajji at Kamani Auditorium, Delhi; Raindrop festival by Guru Smt. Uma Dogra at NCPA theater, Mumbai; Sangeet Natak Akademi, Delhi; Natya Festival, NC; MET museum, NYC; Independence Day parade, NYC and March of Dimes, NJ.

Below are the highlights of my major achievements and accolades as a performer, choreographer, and a director.
Distinguished Performances and Achievements​
​
Sangeet Nrityanjali, New Jersey - May 2023. An evening of Indian classical dance and music organized as a remembrance of my grandfather, Shri Mahadeo Degwekar.

14th American Natya festival, St. Louis - April 2023. Solo performance at the festival organized by Soorya Performing Arts

Show up & Dance New Jersey - Feb 2023. Professional showcase at Montclair State University

Colgate University, NY - November 2022. Guest Lecturer to demonstrate the art form and help students explore its nuances.

NaadPrabha, NJ - October 2022. A festival initiated to promote arts and artists globally

Consulate General of India, NY - June 2022. Guest performance at the Distinguished Indologist Award Conferment Ceremony.

Sangeet Nrityanjali, NJ - May 2022. Solo performance at PallaviKathak's inaugural, annual performance series that will feature artists of lineage and legacy training.

New York Kathak Festival Pop-Up Concert, NY - December 2021. Live performance that was well appreciated and kept the audience enthralled.

NaadPrabha, NJ - November 2021. Solo performance at PallaviKathak's inaugural event that will provide platforms to known and lesser-known, but talented artists. The evening's lineup featured other artists also.

Articulate - October-November 2021. A fundraiser in the honor of my grandfather, Shri Mahadeo Degwekar of the Gwalior gharana to help art and the artists thrive.

Viewcy sessions, Thursday Evening Ragas - September 2021. Online conversation and solo performance.

Pt. Lachu Maharaj-ji Festival - September 2021. Online solo presentation in the honor of Pandit Lachhu Maharaj-ji.

Baithak - July 2021. Featured artist on the 8th global episode via a virtual tête-à-tête sharing my Kathak expertise, followed by a short performance.

Facebook live interview - July 2021. Conversed with EDGENUS' artist team about my Kathak journey and experience.

Hon. Dr. A.P.J Abdul Kalam Bharat Puraskar - June 2021 - Awarded for my achievements and contributions to the Indian classical arts.

Quintessence - The tatva of Kathak, NJ - May 2021. For International Dance Day, I organized an online fund-raiser that aided the drive of Mahagami Gurukul in distributing masks to underprivileged children during the peak of the pandemic in India. This drive culminated through an online presentation that was net-cast on social media.

Capturing the Moment, NJ - April 2021. Solo performance for South Orange Performing Arts Center (SOPAC) which celebrated seven dance choreographers who received the highest honor, a choreography fellowship from the New Jersey Council on the Arts. The performance was premiered on YouTube and later televised on state-run TV channels.

A review about the performance at SOPAC was published on the website, Seeing Dance.

Best Teacher Award - April 2021. Awarded by the magazine, The Dance India, in recognition of my contributions to Indian classical dance on an international level and overseas. This was, incidentally, conferred on International Dance Day.

Utsaah - March 2021. Online solo performance at Durga Jasraj's initiative of spreading happiness and positivity during the pandemic.

Nritya Kala Utsav, India - March 2021. Interview on FaceBook by Lovely Professional University's Department of Cultural Affairs about being a role model for the younger generation.

Swaranjali, Delhi - February 2021. Citation received for my solo performance.

10th Pravasi Bharatiya Sangeet and Nrittya Mahotsav, India - February 2021. Online solo presentation.

Article by the Katapult Network, titled "Kathak: A unique melodious tale of the body and its tunes" on their website, www.medium.com

Akhil Bhartiya Pratibha Puraskar, India 2020-2021. The Art & Cultural Trust, New Delhi, India, conferred five artists with the national talent award in different fields of Indian classical dance and music. I was the only dance artist and woman to receive the award that year and was felicitated by the chief guest, Hon. Dr. Vinay Sahasrabuddhe (member of Parliament and President, Indian Council of Cultural Relations) on January 15th, 2021.

Mehfil - A Tribute to the Legends, Facebook Live Show - Dec 2020. Taal Swara Angh organized a live concert and I was honored to performed solo, to pay tribute to the legends of Indian classical music, Ustad Sabri khan sahab - sarangi samrath and Ustad Mohammad Ahmed Qadri Sahab - sitar legend.

Indian Classical Dance and Music Festival Khajuraho, Online - Nov 2020. Environment and Social Welfare Society India nominated me to perform at this festival, conducted online.

Feature: Rays of Hope, India - Nov 2020. A web portal feature about my career - Pallavi Degwekar Shaikh: a passionate soul in Kathak, was published on The Dance India magazine's site. Appointed as a Chief USA Correspondent of their web portal.

Up, Close and Personal, Facebook Live Show - Nov 2020. Katapult Networks conducted my interview on their live talk show. It was gratifying to share my journey, and my experiences and also showcase short performances.

Kathak Concert, Online - Oct 2020. ArtOIndia organized a live online Kathak solo concert, showcasing my expertise in the dance form.

Blackbox Baithak, NYC - Sep 2020. Navatman organized an intimate Kathak show of Blackbox Baithak online, and happy to be a part of the show with my solo performance.

Nrityakriti, Online - Sep 2020. Collaborated with a visual storyteller artist, Debabrata Pal, from India. Excited to be a part of this unique collaboration between two art streams of Kathak and painting.

Why I Dance, Online Campaign - Sep 2020. Indian Raga organized an online campaign of "Why I Dance" to unite artists. Happy to be part of such a unique campaign by sharing my aspiration of dance.

Chinna Kalanadam Festival, Online - Aug 2020. This festival was organized by NADAM on facebook, to encourage and promote young talented dancers across the globe. Proud of littlest students to have participated in their first live solo performances.

Navatman Workshop, Online - Jul 2020. Happy to be invited, to conduct an online Kathak workshop on the importance of Padhant in Kathak dance style, organized by Navatman.

Guru Poornima, Facebook live - Jul 2020. Conducted an online Guru Poornima Festival with virtual offerings to our gurus on the auspicious occasion of Guru Poornima, along with my students, live on Facebook through zoom.

Fundraiser, Facebook live - Jul 2020. Organized and collaborated with fellow Indian Classical artist, Abhijit Pohankar, to raise funds for an artist in need from Rajasthan, India.

Kathak Workshop, Online - Jun 2020. Conducted online Kathak workshops of two days for international students of advanced skill level.

Instagram live talk show - May 2020. Santosh Ghante an accomplished Indian classical musician held a live talk show from India on Instagram interviewing me about Kathak, and artists during this pandemic.

SAMYUKT, Online - May 2020. Participated with 22 other Kathak artists across the globe showing our solidarity and unity through Kathak.

Hindustan Classical Music and Everything, Facebook live - May 2020. This organization had conducted a season of live Mehfils by various artists, was honored to be the concluding performance of the season.

New York Kathak Festival, YouTube live, - Apr 2020, Honored to be a part of NYKF again this year. Due to COVID 19, the festival premiered online on YouTube.

Artist United, Facebook Live - Apr 2020. Excited to be a part of a new initiative to unite Indian classical artists around the world during the quarantine. Honored to perform the finale of their show.

Ravivar Riyaaz e-Sabha, Facebook live - Mar 2020. Started a new initiative of a weekly online Kathak session encouraging all artists during this pandemic.

The Dance India Awards, India - Mar 2020. Honored to receive the Rays of Hope award from The Dance India on International Women's Day awards for contributions in the Indian Performing Arts.

Creative Diversity, NJ - Feb 2020. Some of my youngest students participated in the annual Raag Rang Fundraiser, an event bringing the community together displaying its diverse talent.

Individual Artist Fellowship, NJ - Feb 2020. Honored and grateful to receive the NJ Council on the Arts, Individual Artist Fellowship Award of 2020 for choreography.

Carnegie Hall, NYC - Jan 2020. Excited to be the only Kathak performance of the show and to be able to share such a prestigious stage with other International dances. Another playbill published!

WE ♥️ KATHAK, NYC - Dec 2019. A fundraiser presented by New York Kathak Festival. Privileged to perform at the first fundraiser of NYKF alongside renowned Indian Classical Dance artists at DAG .

Indian Raaga Fellowship, CA - Jul 2019. Received Indian Raaga fellowship, the only Kathak artist in the US, along with 27 other artists from the Indian Classical Dance and Music community. Performed for two video productions.

Geeva Heritage Festival, KY - Jun 2019. Organized by Guru Vandana Arts Academy. Honored to be invited as a guest artist at the festival and to conduct a Kathak workshop for all the students of the academy. I was overwhelmed and grateful to receive a standing ovation for my performance.

Examiner, NC - May 2019. Invited as a Bharati Vidyapeeth Examiner at the Charlotte NC center. It's always rewarding to be able to exchange art and ideas with gurus and students from different Kathak Dance schools and see what their students have to offer.

Natraj Dance Showcase, NJ - May 2019. My students won high gold and a special award in the Junior Classical Dance Category. They performed spectacularly in the group dance and were able to execute my intricate choreography.

Qawwali Night, NJ - Apr 2019. This event was organized by Art and Beat as a fundraiser for Phulwana victims - Bharat Ke Veer. I was honored to be a guest solo Artist and to be able to help raise money for such a noble cause.

New York Kathak Festival, NYC - Apr 2019. NYKF was an exceptional event bringing the Global Kathak Community together! I had the opportunity to perform in front of Birju Maharajji and Saswati Didi after almost a decade! Was honored to be able to share the stage with the legends and perform on the same day as them during the festival.

Kal ke Kalakaar, NJ - Mar 2019. Organized by Raag Rang an event featuring budding artists of the future from classical realm. My intermediate level students performed for a stretch of 20 mins, and were the only representatives of classical dance.

David Geffen Stage at Lincoln Center, NYC - Jan 2019. Honored with the opening act performance, choreographed and performed along with 27 dancers, excited to get my first playbill published!

RAW Brooklyn Bazaar, New York - Dec 2018. Performed solo as the only Indian classical dance artist at the festival, it felt wonderful to share the art with people of different artistic backgrounds.

Vishwa Hindu Parishad's annual dinner, NJ - Dec 2018. Invited to perform solo at the annual dinner of Vishwa Hindu Parishad, NJ branch.

Natya festival, NC - Oct 2018. Organized by Laasya Nritya and Natya, a non-profit organization. Performed solo and served as a role model for the students of Natya. Honored to be felicitated by Guru Sridevi Jagannath.

Rays of Hope, India - Oct 2018. An article about me as an Kathak artist detailing my background, career, and current activities was published in The Dance India magazine's October issue.

Mudra dance festival, PA - Sep 2018. Organized by Philadelphia Ganesh festival, performed a solo and group with my students. A review about our performance was published in a leading newspaper -The Statesman, India .

Bharat Mela, NJ - Aug 2018. Directed and choreographed a group performance with my senior students to showcase Kathak art at the iMela, flavors of India. Honored by the presence of the Mayor and other dignitaries at the event.

Utsav -Jul 2018. My senior students performed mesmerizing Tarana and made me proud by winning third place in the classical dance category.

TV Asia for World Hindu Day, NJ -Jun 2018. Organized by OM Kriya Yog. Blessed to be the only Kathak artist to share the art at such an important occasion. The event was broadcasted on TV Asia channel.

Chinmaya Mission, Vrindawan Mela, NJ - Jun 2018. Danced on the stage inside the temple in front of Balaji! Choreographed Abhang and Kathak blend for this special auspicious venue.

Guru Shishya Tradition, NJ - Jun 2018. Danced a solo performance keeping the legacy of guru-shishya tradition concluding the 4 days exam sessions with Guru Prajakta Atre.

Vasant Utsav - Apr 2018. Organized by Marathi Vishwa Mandal. Directed and choreographed 18 beginner students to perform at the Utsav. Was fun to watch the little ones give an engaging performance.

Naach Revolution - Apr 2018. My adult students debuted their Kathak performance and won first place in the classical dance category. My second group of beginner students won first place too. Interviewed by TV Asia.

MET museum, NYC- Oct 2017. Performed solo at the Diwali event organized by Asian Women In Business (AWIB), representing women in art.

Vasant Utsav - Apr 2017. Organized by Marathi Vishwa Mandal. Directed and choreographed a Sargam Bandish for a group dance by my beginner students.

Utsav - Jul 2017. An initiative by the non-profit volunteer organization Asha for Education. Directed and choreographed a group dance for the competition. The choreography won first place for Junior Classical Dance.

Naach Utsav - Oct 2017. Directed and choreographed for two group dances for the competition. Both dances won first place in the classical dance category.

Hindi Mahotsav (Festival) USA - May 2015 and 2016. Honored to be a judge for Hindi USA in their 15th and 16th celebration festivals at J.P. Stevens High School, Edison.

Dance Pe Chance - 2015. Honored judge as a part of India's 66th Republic Day celebrations for FIA (Federation of Indian Association) in the tri-state: NY, NJ, CT for the Bollywood competition in the State Arts Theater, New Brunswick.

35th India Day Parade, Madison Square, NYC, by FIA - Aug 2015. It was exciting to be a part of the Independence Day celebration here in the USA, choreographed and performed both solo and group dance.

Radio Zindagi - radio station, 104.7 FM, NJ - Sep 2015. Interviewed in the capacity of Kathak artist and guru as the director at Nrityanjali Arts.

Interfaith Holiday Celebration by SACO at NJ - 2015. This celebration included performances from many international cultures. I showcased the Indian classical dance.

Rangeela, by March Of Dimes, Plainsboro NJ - 2015. Blessed to be part of such an incredible fund raiser. Performed both solo and group dance.

International flower show Philadelphia - 2010. Showcased Indian classical dance - Kathak on this international platform.

Zhalak - 2010. Honored to be invited as a featured artist at this event. Performed a solo Kathak dance piece and was grateful to receive rave reviews from the audience.

Annual shows of Archana Nrityalaya, USA - 2009 to 2014. As a teacher, it was exciting to perform for the annual show and also witness growth in the students.

Guru Poornima and Annual recital of Archana Nrityalaya - Sep 2008. Performed duet at my school's annual festival, review was published in Mumbai Times, city news supplement of the leading national newspaper - Times of India.

Zara Nach Ke Dikha, Mumbai - 2008. Assistant Choreographer to Mouni Roy for the dance reality show, worked on the choreography of popular Hindi film song, "Kahe Chhed" from the movie, "Devdas".

Nalanda Nrityotsav, Mumbai - 2006. Organized by Dr. Kanak Rele of Nalanda Dance Research Center, was honored to perform solo dance at such a prestigious event.

Sangeet Natak Akademi Festival, Delhi - 2005. Organized by Sangeet Natak Akademi, National Academy of Music, Dance and Drama. Performed both solo and duet at the the Akademi's festival, a review of our dance was published in The Hindu, leading national newspaper.

Haridas Sangeet Festival, Mumbai - 2005. Invited to perform at the festival as a recipient of Sringar Mani. On this special occasion performed a duet with my Guru bhagini Prajakta Potnis, my Tatkaar and her Bhaav were the highlight of the event and our art was very well appreciated.

Johnson & Johnson Ltd, Mumbai - 2004. Performed both solo and duet at the Johnson and Johnson conference organized by Ananda Cultural Center.

14th Raindrop Festival, Mumbai - 2004. Organized by Samved – Society of Performing Arts. This is one of the most prestigious festivals in the Kathak fraternity. Was honored to perform a solo and its review was published in Loksatta, the leading state newspaper.

Kal Ke Kalakaar Conference - Mar 2003. A national level competition for budding artists of the future, organized by Sur Singar Samsad. Earned the title of "Singar Mani" as an extraordinary dancer.

Pt. Birju Maharajji's Sadhana festival, Delhi - Mar 2003. I was invited to perform at the festival on the prestigious Kamani Auditorium stage as one of the best dancers of my guru.

Manikchand, Pune - 2003. Performed solo dance at the celebrations for the launch of Manikchand.

Cultural Center's Youth Festival for Dance and Music, Mumbai - 2002. Organized by the youth center of Dadar-Matunga, performed a solo ballet.

Alpha Gaurav Awards, Goregaon - 2001. Organized by Alpha TV (now Zee Marathi), performed a traditional classical routine with a group of dancers at the awards show.

Nehru Center, Mumbai – 2001. Worked with senior folk dance artist Ramesh Purav. Loved being part of their earthquake relief efforts project.

Shanmukhanand Hall, Mumbai 2001. Celebrations were organized for 75th birthday of the late Shiv Sena leader, Balasaheb Thackrey. Performed a group dance ballet.

Shila Mehta dance troupe, 2001-2007. Performed with renowned Kathak dancer, Shila Mehta and her troupe at various prestigious occasions across India for almost 6 years.

Maharashtra Chitrapat Mahotsav (Maharashtra Film Screening Festival) at the Dadoji Konddev Maidan, Thane, Mumbai 2000. Performed group dance with renowned artist Ashok Hande.

Bandhini - Apr 2000. Acted in the Marathi TV series on national Marathi Channel - Sahyadri, created by Adhikari brothers.

Nrityangana, Mumbai 1999. An inter-collegiate youth festival organized by Sydenham College. Secured third place trophy for classical Kathak dance category.

Dance ballet productions of Archana Nrityalaya -Rutu Raag Darshan, Dawn, Jatra - 1992 - 2000.
I started my Kathak journey under the immensely talented and humble Guru Asha Tai, fondly called by everyone as "Maushi". She was a positive role model in my life, shaping my career as an artist and influencing the person I am today. Maushi, once told me "Keep dancing till your last breath!" and I am going to do everything in me to keep my dance alive!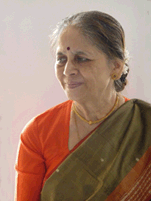 Pt. Birju Maharaj is a living legend in the Kathak realm. It was a big blessing to train under him and imbibe some of the nuances of the Lucknow gharana. Once while rehearsing for a show when I was a bit nervous, Maharajji had kind and encouraging words for me. One of my memorable birthday was the one celebrated with him at the Sadhana Festival.
A Kathak dancer must have a compelling command on Taal and Laya! I owe immense gratitude to Suresh dada for cultivating this talent in me with his unique, interesting, and fun-filled way of teaching. The training sessions used to have the best vibes with many Kathak and tabla students learning the art together! His kind praises of my choreography and execution, still encourages me!
Taalyogi Pt. Suresh Talwalkar
"Pallavi proved herself as a solo performer .... she also impressed as a Guru and choreographer in the group performance by her well-trained students ..."
— Manjari Sinha, Acclaimed Music Critic
"Pallavi dances so beautifully that we could not stop watching her performance ..."
"Pallavi has been conferred the prestigious title of 'Singar Mani' ... her performance was outstanding."
"Pallavi is a very diligent and graceful dancer and is always keen on acquiring higher knowledge."
"Pallavi has been giving outstanding performances across India ... she is very good at footwork presentation and has a good sense of rhythm ..."
— Taalyogi Pt. Suresh Talwalkar
"We noted that she is bringing a very American approach, that of teaching ... plus, I feel she is a "stickler" for authenticity ..."
"She has been promoting Indian Classical dance form of Kathak on the foreign land ..."
"... good voice modulation in bol recitation and a capacity for concentrated abhinaya are assests of Pallavi's dance."
"... the RadhaKrishna duet dance with Pallavi was one of the star performances of the evening."
"... youngest Kathak artist to have entranced the audience with her dance."